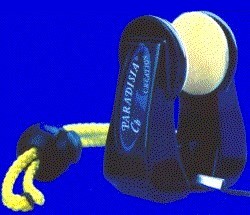 CHARACTERISTICS
Composite resin (high resistance to impacts and mechanical contraints).
Weight : 29 gr for the whole device with strap.
Unlimited force of tightening.

Progressive and adaptable tightening.

Automatic locking when tightening.

Special coating of jaws for perfect comfort and fixation.

Adapted to every morphology.
Available in
black, blue, yellow, turquoise, white, grey, orange
Direction for use
THE ONLY ONE
COMPOSITE SYSTEM
Conceived and manufactured to satisfy the demands of freedivers and swimmers, the CS05 PARADISIA Nose-Clip (patented) is a real new invention as far as performances and technology are concerned.
It's in fact the only device on the market that allows you to personally tighten as much as you need. You can adjust the force to your own needs and to the activity you wish to practice :
Light tightening for back-stroke swimming or other, static, dynamic...
Strong tightening for deep freediving (compensation).
Moreover when tightening you profit by the automatic locking system whatever force you choose.

This unique system avoids every variation in pressure when tightening and all risks of accidental opening during use.

Finally the special coating of the jaws is a guarantee for an exceptional comfort and fixation even in extreme conditions :
High speed swimming (surface or immersion)
Special uses
The shape of the CS05 PARADISIA Nose-Clip has been designed and conceived to allow its use whatever your morphology.